Self-Care in the Time of COVID-19
A couple of months ago, TWiV fan Dave sent me an email about my apparent emotional stability in the face of, well, all this (imagine me waving my hands at the general state of the world in 2020):
Dear sir,

How do you stand it?

Turbid Plaque and TWiV have been a lifeline for a drowning man, but it's just not enough. I'm inundated, daily, with extreme behavior – recklessness and over-caution both in ridiculous proportion.

I'm having an increasingly difficult time with this, and although I have no idea why bothering you seemed like a good idea today, I like the notion that we are kindred spirits. Your clear headed input on TwiV, your inspirational blog (bioepiphanies just about brought tears, honestly), and what I feel is an appropriate lack of faith in the long term survival of our species makes me dearly wish I was your neighbor.

I have dreams of living in a society where most people understand the strength of science as a process, but I have no idea where such a place might be, except in movies and SciFi books.

Expectations are the root of all unhappiness, so I'll have none here. But I will add my heartfelt thanks to the many others grateful for you sharing your thoughts. If you have any secrets or ideas about what a science loving hermit might stick his head into for more insulation from the madding crowd, and maybe even a useful retirement, don't hesitate to write.
After a few exchanges, Dave agreed to let me use his note as a lede to this post, laying out my own strategies for handling the jaw-dropping stupidity of humanity's present moment. I make no guarantees that my approach will work for Dave, or for anyone else, but here are the things that have helped my family and me the most.
First, I'm on a strict news diet. Between the pandemic, the sociopathic ravings of our current President, and the cyberpunk dystopia of the advertiser-driven web, less news is good news. The internet provides tools to accomplish this, but they have to be used with some care and discipline.
Let's start with RSS feed readers. You may not have heard much about these, because they undercut the business models of companies like Google and Facebook, but RSS is a superior way to get specialized news.
The easiest way to set this up is with Feedly, a "freemium" service that works in any browser. The basic Feedly account is free and works fine for me, though the paid version offers some additional features. To use it, just set up an account, then find some news sites you want to follow and plug their URLs into the appropriate boxes in the Feedly interface. Whenever you sign in, you'll get a "feed" of the latest postings from all of those sites. It's like a custom newspaper. Be sure to add the Turbid Plaque, of course, so you'll get every post from this site.
The chief drawback – or advantage, depending on how you use it – of a RSS reader is that it makes it trivial to construct a personalized filter bubble. My approach has been to focus my Feedly account exclusively on sites related to my work and hobbies, plus friends' blogs. From my Feedly page, I only see glimpses of the dumpster fire of 2020, and those bits are the ones I really needed to know about. Instead of advertisers' algorithms curating the news for me, as they do on Facebook, Google, and Twitter, I'm doing it myself.
To round out my view of the world, I allow myself a maximum of two news "briefings" a day, usually one in the morning and one sometime in the afternoon. Each consists of visiting no more than two general news sites. I cycle between an anonymous (not logged in) Google News page, the local news for my state, and my local public radio site.
I try to avoid social media. Nobody in my household is on Facebook. I've considered deleting or suspending my Twitter account as well, but so far I've just set strict limits on it. Once a day I check in, almost exclusively to read my notifications and direct messages. Doomscrolling is only allowed until the third "Promoted Tweet" appears, or five minutes elapse, whichever comes first.
The news diet reduces incoming stress, but doesn't eliminate it. That's one of many reasons I put a high priority on regular exercise. Before the pandemic I was in the gym almost every weekday morning, alternating weightlifting with aerobic machine workouts. Since March, I've had to adapt to exercising at home, and have rotated through a few workouts: lifting dumbbells in a little improvised "gym" in the basement, running outside, doing sets of burpees, and most recently playing Ring Fit Adventure on the Nintendo Switch. The key is to do something at least a few times a week, and to figure out a schedule that makes it easy to start. For me, mornings work best. Then no matter what else happens during the day, I've gotten some exercise.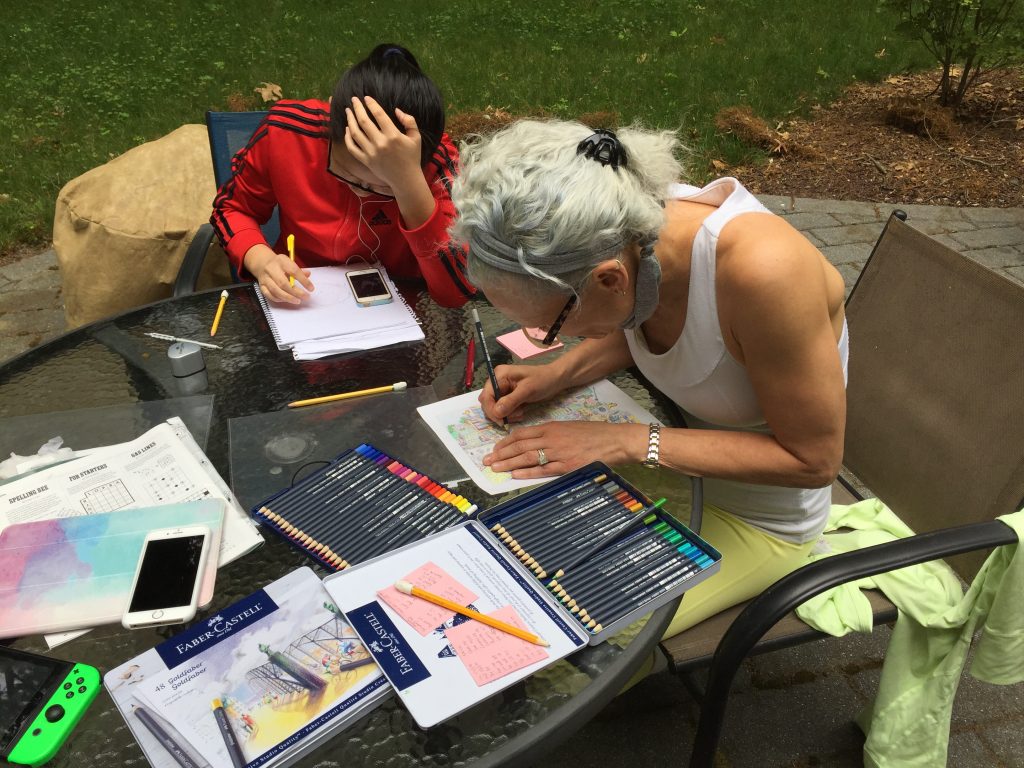 With doomscrolling restricted and most other activities still curtailed by the pandemic, though, how does one fill the days? Laura and I are fortunate to have retained our jobs, and Sophie had tennis camp and now (online) school to keep her busy, but that still leaves many waking hours available. Fortunately, there are plenty of forms of escapism that don't require leaving home. Some don't even require a screen. Laura has gotten into adult coloring books, Sophie likes to draw, and I've been reading a lot more books than I did pre-pandemic. We all play various video games, too: Laura likes puzzle games on the iPad, while Sophie and I are partial to the Nintendo Switch and Steam. Netflix has also yielded several entertainment gems in recent months.
To that end, I'm going to start posting reviews of some of our favorite things to do. To return this blog to its regular science focus, the reviews will appear on my personal blog. I'm also interested in hearing how other people are getting through this mess; what books, games, movies, activities, or news sources are preserving your sanity these days? Feel free to drop me an email describing your strategies, or better still, send me a link to your own blog. Take care, and stay safe.